Our Location - Duce
Pansion 'Radoslav' is situated in cental Dalmatia in a little place Duce near Dugi Rat which is between town of Split and town of Omis on the Adriatic Highway.

Duce is approximately 20 km far away from Split on the way to Makarska and 2 km far from Omis. Directly opposite is the island of Brac.
Beaches: sandy.
ABOUT DUCE
Duce is one of about twenty small places in Poljica, the area at the foot of the Mosor mountainous chain. The Duce with its magnificent, nearly continuous sandy beaches, about 4 km long, are a natural phenomenon.
People of Duce was mostly a fisherman's in past. Agriculture was also developed at that time. Nowadays, almost every family in Duce is involved in modern tourism, directly or indirectly.
A number of houses along the very coast have been built for tourism. There are several houses that provide board and lodging and a number of catering facilities.
The scent, silence, nature and scenery of the horizon and islands, make this region particularly attractive to tourists from large modern cities.
Duce belonged in the past to the famous ancient Poljica Republic ruled by the Grand Duke according to the decrees of the Poljica Statute.
Such a heritage has left an indelible imprint on that place which is proud of its preserved examples of popular rural architecture.

See the pictures of Duce

Road Conditions
Click here to check road conditions on Croatian roads (HAK website).
How to reach us?
by plane: Daily flights to Split airport from all major towns / cities.
by ship: Daily arrivals to Split from Rijeka, Trst, Ancona.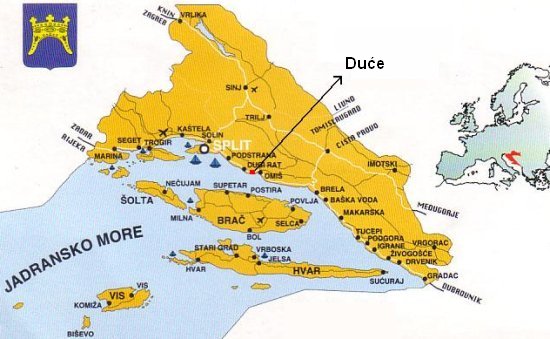 by bus: Daily routes to Split from all major town / cities.
by car: A1 highway: Salzburg - Villach - Karavanke tunel - Ljubljana - Zagreb - Dugopolje - Split - Dugi Rat - Duce.
Adriatic road: Rijeka - Senj - Zadar - Sibenik - Split - Dugi Rat - Duce.